When you need tree work, who should you call?
The Tree Guys!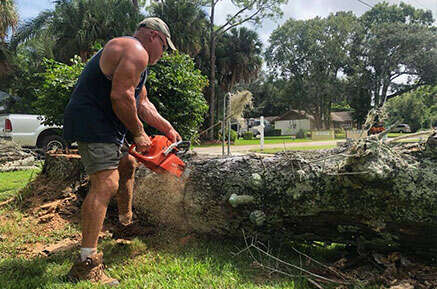 Don't settle for someone's crew! Owner Jimmy Williams will personally be on your property to get the work done properly every time. Get The Tree Guys who have the know-how to best serve you.
The Tree Guys offer a full range of tree services. We cater to commercial, residential and municipal customers. We know how to work efficiently, professionally and safely. Our highly trained crew comes in, gets the job done, cleans up and leaves your property only when you are satisfied. We have the equipment and ingenuity to get even the most challenging tree work done while protecting your most valuable asset, your property, from damage.
Be prepared! Clean up your trees BEFORE the storm. Let us carefully thin and prune your trees before the winds come. Being proactive can save you lots of time, money and damage.
The Tree Guys come prepared. We have the equipment to get the job done! Bucket Truck, Full Size Bobcat, and Small Bobcat to get into tight quarters, along with trailers to haul away debris leaving your property looking great!
If we can't get our equipment to your tree we have professional tree climbers that climb trees with safety harnesses, ropes and pulleys - We can do it!
We offer many tree services: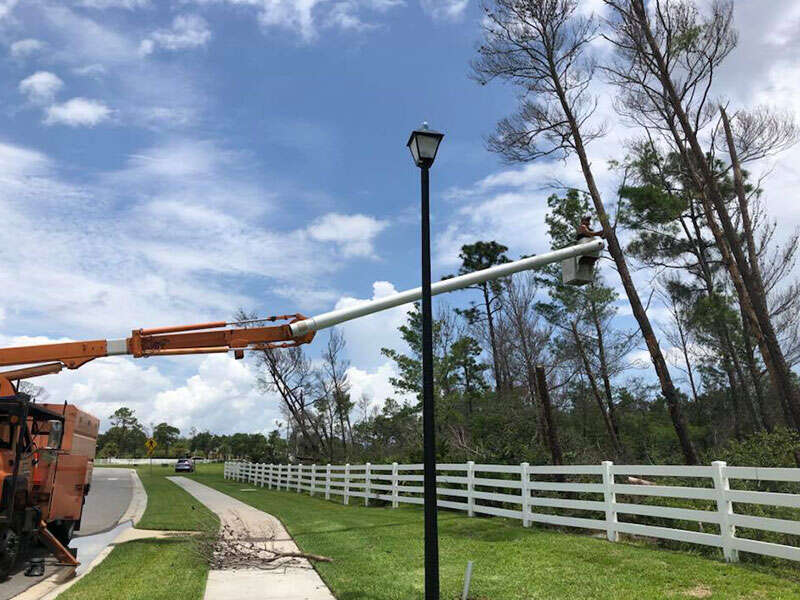 Tree Trimming improves both the strength and appearance of your trees and adds value to your property. Proper pruning and trimming facilitates a strong, healthy tree. Removing tree density is crucial to reduce wind resistance and potential property damage.
Tree Trimming - Low lying limbs and canopies are a hazard to everyone. Whether you are a homeowner, commercial business or a Home Owner's Associations, Tree Guys can take care of your tree trimming needs in Brevard. Tree trimming improves the overall health of the tree. Here are a few reasons to keep up on tree trimming maintenance. For the health of the tree, any branches that may are rubbing together or crossing are at risk for falling unexpectedly. Improving the airflow through branches and fronds is also beneficial for the health of the tree, we do this by thinning the crown of the tree. If you have any trees that are infected/have fungus, it is a possibility to save the tree by carefully trimming or pruning the affected limbs, fronds or branches. Another reason to trim your palm trees is for aesthetic purposes, this can also add to the curb appeal to your property. Tree trimming is a great way to maintain appearance and shape, however overdoing it is easy and will have a poor outcome on the health of the tree, and/or cause damage. Never try to force an unnatural size or shape on a tree. Lastly, trimming for safety reasons is also important, falling branches or fronds are a hazard. Removing dead wood prevents insect infestation, rot and disease. Trees add value to your property. Protect your assets and give them the foundation for a long healthy life. A dead branch will normally fall off by itself, but this natural process can be sped up by a number of factors including extreme temperatures and high winds, putting your safety at risk. These are just two things to consider here in Florida, especially before hurricane season strikes.
The Tree Guys can examine any tree that may need dead wooding and give you and expert advice. We're able to point out and remove dead branches before they fall, saving you time, money and safety. In some cases, there are ecological benefits of dead wood within trees. However, in most cases dead wooding has great benefits including:
Removing an area where disease and insect infestation can spread from
Maintaining aesthetic appeal of the tree
Preventing potential damage to surrounding areas and people if a limb were to fall especially when the tree is in close proximity to homes, pathways, gardens, or roads.
Tree Removals - Whether a tree has to come down on your property for safety or construction, or to enhance the aesthetic appeal, The Tree Guys have the equipment and knowledge to assess potential hazards involved such as falling limbs, tree placement and diseases.
Cutting down a tree is dangerous. Leave the stress and hazard behind by letting The Tree Guys take care of it for you. Does a tree on your property need to be cut down? Let the experts here at The Tree Guys handle the job! We have experienced professionals on our team who are very knowledgeable. Tree cutting may seem simple but there are some important points to remember when cutting a tree which include: examining the tree first, proper steps, techniques and using the proper rigging equipment. The Tree Guys know which questions to ask before trimming or removal, and cover all the bases.
Some questions for homeowners to consider prior to tree trimming services or tree removal services include:
Are branches from any nearby trees in the way?
Are any branches broken or dead?
Does the tree have a disease?
Does it lean in a specific direction?
Is there a clear area where the tree can safely fall without causing any damage?
In most cases it's best to hire a professional for tree cutting, for personal safety and to avoid possible property damage.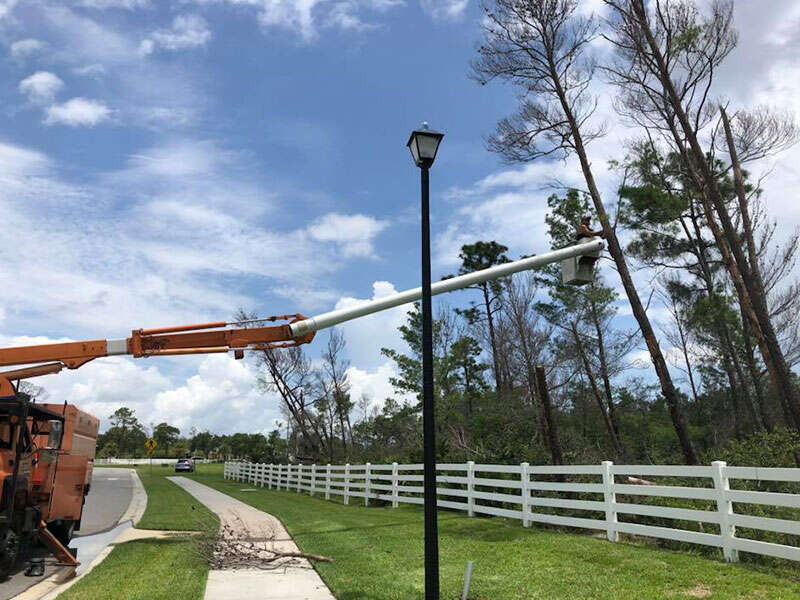 Tree Lifting - When the canopy of the trees and low limbs become dangerous to you or the public, we can lift the canopy up to industry standards. Whether a homeowner, business owner, or Home Owner's Association, we can elevate your trees to eliminate hazards and ensure safety to you and the public. We always clean up the debris!
There are many reasons why tree lifting is the solution to your problem! This can save trees, and can be an alternative to tree removal. Some of these reasons are:
letting in more light
having the lower part of the trunk free of branches
opening up a desirable view
keeping branches away from buildings
keeping branches away from traffic
making signs visible that are too far off the ground
Stump Grinding - Stumps can be ground down below ground level. When it comes to getting rid of stumps on your property, choosing between stump removal or grinding, grinding is the more economical choice of the two. When you grind the stump you have to go below ground level. The ground up portion of the stump which is below ground level is covered by dust and dirt, and will decay over time. The portion of the stump that is above the ground is ground into small enough pieces to be used as mulch or a ground cover, to fill the area where the stump used to be.
Property Cleanups - You can count on us to handle your property clean up needs. Describe your vision to us, and The Tree Guys will turn it into a reality. Whether you have a mature overgrown property or new property, we go in, clear, trim, lift and leave the property looking cared for and manicured. You're the boss and you can count on us to get the job done right.
Lot cleanup - If you lot is overgrown and needs work, we can do it! Firebreaks, tree cleanups and brush removal make your property more visually appealing and safer for surrounding properties from fire damage.
The bigger the tree the bigger the risk for any surrounding buildings. Every year hundreds of people are injured and/or hospitalized for gardening related injuries. This is why it's important to hire a licensed professional to handles situations like this.
We offer our services at competitive prices. Our team is highly trained, licensed and insured so you can be confident that the job will be performed safely, professionally, and in a timely manner. Our team of dedicated professionals will complete your job quickly and efficiently, and leave your property clean and free of debris.
The Tree Guys has been providing tree services to residents and businesses of Melbourne, Indialantic, Satellite Beach, Cocoa Beach, Rockledge, Melbourne Beach, Merritt Island and surrounding areas for over 10 years.
More on Tree Services
Whether it be creating a brand new landscaped experience or modifying an existing one, trees play a major role in the overall life and feel of your outdoor space. Especially today with the increase in environmental awareness there has been a profound boost to an already growing demand for lush landscapes filled with trees that frame the perfect outdoor setting. As many Floridians know, a well-placed tree can provide some valuable shade that can cool the yard and home during the sunny afternoons of Brevard County.
But what if trees are overgrowing their space? Tree Guys Online's tree trimming, cutting and removal services are affordable, safe and perfect for all types of overgrowth. Fully licensed and insured, tree services are provided without worry. Everything from safety zones to tree health are considered prior to starting a service. Not only does tree maintenance and care clean up the landscape, it also provides the trees with much needed upkeep allowing them to flourish and grow while maintaining proper health.
Picking the right tree to place can be just as hard as removing a troublesome one, so let us help you with all of your planting and removal needs. Providing tree removal and planting services in Melbourne, FL area for over 10 years, we have the necessary experience and care you need to get the job done safely and efficiently.
Choosing a Tree
When choosing a tree, it is important to be mindful of space available for the particular tree to mature and grow without crowding the landscape. Try to imagine the tree fully grown in your yard or property, to get an idea of what it will look like in the future. Although many yards have ample room for smaller trees and shrubs, larger trees, which take longer to mature and ultimately grow, can over time throw an entire outdoor area into disarray by shifting terrain and using up the vital nutrients in the soil. As a result of not planning properly, owners can find themselves in a tough situation having to compensate for stressed plants and shrubs along with an overly crowded landscape that may have looked great at the onset. With us at your side, you can choose from some of the most beautiful arboreal additions to your landscape worry free.
Think twice before trimming your Palms
A common misconception of palm tree trimming is that trimming the older browning fronds will improve the growth of the new fronds, this is not true. In fact, palms absorb nutrients from the lower dying leaves. If the frond is not completely brown, the palm will still utilize nutrients and sugars stored in the fronds. The fronds are the main source of the palms energy.
Another misconception is thinking when a bad storm or hurricane is approaching is it a good time to trim fronds. Cutting healthy fronds can make the palm less resistant towards the storm. Any tree with a full crown or canopy will be much more capable of handling high winds, resulting in less overall damage once the storm or hurricane season has passed.
If your palm has a disease, proper trimming guidelines should especially be followed. Any equipment you use to trim or prune a palm which is suffering from a disease, can spread the disease to the next palm you trim. Palms have a network of sugar and water that is constantly circulating through them, so when you trim the fronds, you are cutting live tissue.
When a palm is finished using the nutrients from its fronds, it will either drop naturally or as mentioned above, will turn completely brown. Your palms will 'show' you when they are ready to be trimmed.
---
Palm Tree Deficiencies, Diseases, and Infestations
Have you noticed something off about the appearance of the palm on your property? Palms are subject to a number of factors that could harm or even kill them. From fungus to infestations of pests to nutrient deficiency, below are some common palm problems.
Nutrient Deficiencies
If you notice the palms on your property are declining, there is a chance they could be nutrient deficient. There a number of different nutrients or minerals your palm is in need of, here are some nutrients listed below that your palm could have a deficiency in:
Magnesium

- This is a fairly common mineral deficiency that can affect many palms. Signs of a magnesium deficiency include a yellowing on the fronds starting at the tips and edges. This typically affects the older fronds first and shows up in the newer fronds if not corrected. (If you think any of the palms on your property could have a magnesium deficiency, an expert opinion is good to have because older fronds can also start to discolor when it's time for a trim, so be sure not to confuse the two.) A magnesium deficiency is not fatal to palms.

Manganese

– This deficiency is commonly known as

Frizzle Top Palms. Symptoms of Manganese deficiency are when the tips of the fronds, appear crinkled, curled or stunted, this is more common in growth of the newer fronds. This is most common in Robellini, Queen and Royal palms. This deficiency in palms is typically caused by low Manganese in the soil or by a high PH level in the soil surrounding the palm.

Potassium

– Symptoms of a Potassium deficiency will appear on the older fronds first. Symptoms can range between different palm species. They can be yellow/orange-ish spots, necrotic spots or streaks, discoloration that can appear as a dull yellow especially near the tips of the fronds. If a Potassium deficiency has been affecting your palm for a while, the symptoms can eventually be confused with a symptom of Manganese deficiency known commonly as 'frizzle top'. The Tree Guys can come out to your home or property and do a proper assessment.

Boron Deficiency

– Boron deficiency mostly occurs in place that have a high rainfall level, this deficiency can typically resolve itself once rain levels go down. Symptoms will present in the fronds, and cause them to appear to be 'crumpled'.

Iron Deficiency

– This deficiency can cause yellowing of the fronds, appearing first in the newer frond growth as opposed to other deficiencies that appear first is older fronds. Iron deficiency can occur for a few different reasons. The roots could be planted too deeply or the palm could be sitting in soggy soil.

Nitrogen

– The symptoms of Nitrogen deficiency are similar to the other mineral deficiencies listed above, however a nitrogen deficiency is a lack of nutrients, not minerals. Symptoms are telltale yellowing of the fronds, and appears over most of the surface of the fronds as opposed to specific areas of the fronds like the other deficiencies.
Lethal Yellowing
This is a deadly disease that can affect your palms and should be treated as soon as you are aware of the problem. Lethal Yellowing can be somewhat difficult to diagnose because symptoms can be mistaken for other common problems or deficiencies found in palm tree. So what culprit is behind the spread of lethal yellowing? A micro-organism or phytoplasm/bacteria that is spread through insects, leafhoppers. The leafhoppers feed on the infected palm, ingesting the disease and then transfers it to the next palm it feeds on. Symptoms can vary from palm to palm.
This disease causes the fronds to turn yellow and die. This can start with the oldest fronds first, then affect the newer fronds. There can be a single frond at the center of the crown sometimes referred to as a 'flag leaf', if the flag leaf turns yellow, chances are the tree will die. If not caught in time, the yellowing will spread to the entire crown, at which point the tree is not savable at all. Often times one of the earliest symptoms is a darkening or browning of the inflorescence (cluster of flowers that eventually grow into coconuts). As this area of the palm darkens it can blacken. Once this happens, it's almost certain the palm is affected with lethal yellowing. There is no 'cure' for lethal yellowing but there are treatments to keep it in check. In the event you lose your palms to lethal yellowing, there are options for replanting palms that are resistant to the disease.
Ganoderma Butt Rot
This disease is caused by a fungus named, 'Ganoderma Zonatum'. The fungus is commonly an outcome of the trunk of the palm being damaged or injured. In the event the trunk is damaged, the fungus is then able to get inside your palm and unfortunately, kill it slowly. There is no cure for Ganoderma Butt Rot. Symptoms include weakened fronds that hang down. This can affect your palm for years before you may notice a mushroom like growth coming out the trunk close to ground that may be white or light orange in color.
Spiraling Whitefly
The Rugose Spiraling Whitefly has been causing trouble for Brevard County residents for almost a decade. In fact, this infect has only affected central Florida for a few years, first recognized in 2009. These insects have a wide variety of host plants including palms. They use their needle-like mouths to suck nutrients from the undersides of fronds/leaves. They can cause a variety of problems including yellowing, wilting and growth stunt. The most obvious symptom your palms may be under attack of the whitefly is the excrement they leave behind, known as honeydew, a waxy white substance, the whiteflies produce. In turn, sooty mold can also grow on the honeydew, which can cause die back of your palms. The excrement left behind can be a nuisance when left on your vehicles, patios/decks, pools and sidewalks.
Other infestations
We mentioned a few insects above, leaf hoppers and whiteflies. There are many other insects that can also cause an infestation in your palms including; mites, scales, borers, caterpillars and aphids. These insects can damage and kill palms by lessening their overall health and weakening them, which can amplify the effects of any disease or nutritional problems.
Lightning Strikes
Since Florida is the lightning strike capital of the United States, having a palm get struck by lightning in your yard or property is fairly common. The degree of damage done to your palm depends on the lightning strike, some are so charged that it will leave your palm dead or severely weaken them, leaving them extremely vulnerable to attack from boring insects or other culprits. Lightning strikes can kill your palms instantly. Certainly not appealing for the aesthetics of your property and potentially causing other dangerous situations such as fire, or damage to property of people if the tree falls.
In some cases, it will be clear your palm has been struck by lightning. The symptoms will be a rapid onset of drooping fronds, shortly followed by the whole canopy. Fronds may stay green for brief time, then turn brown and fall, as they are unable to receive nutrients due to an internally shattered trunk. Lightning strikes on your property are dangerous. You can depend on The Tree Guys to come out to remove the tree and grind the stump down to ground level at your Brevard County property. We are here to help, with safety in mind, and keep your property looking beautiful!
---
Caring For Your Tree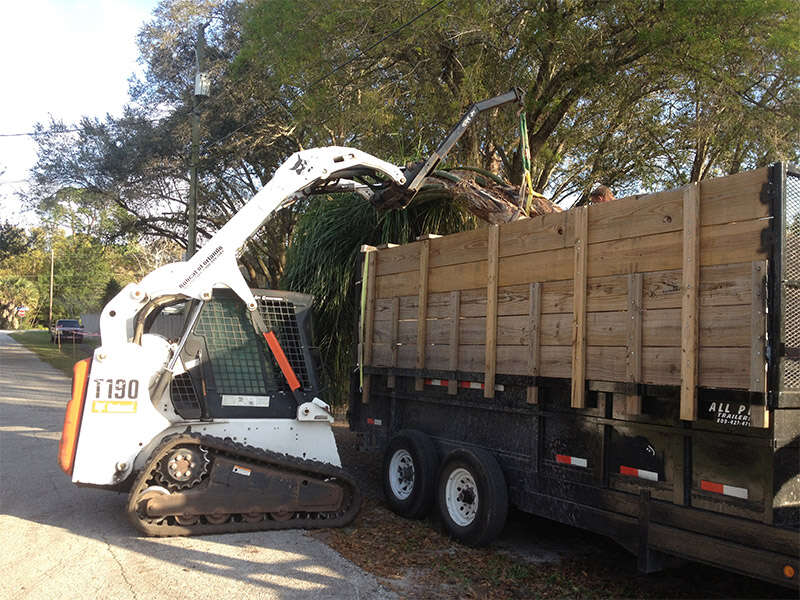 Trees require care just like any other living thing. The trick is having a professional you trust that can tend to your needs while caring for the health of your trees. Tree care is most effective with a regular trimming, which allows the tree to shed cumbersome and hazardous growth ultimately allowing the tree to flourish. Another benefit to regular maintenance is the added advantage of giving owners the ability to see problems as they arise.
When completing larger maintenance tasks of a tree, it is important to note that dead branches and broken limbs are a hazard to both the tree and public and should receive immediate attention in the way of a tree cutting service. Care should be taken as cutting branches too close could cause additional damage, future breaks or even leave the tree open to disease.
Emergency Tree Services
In the unfortunate event of a tree emergency, The Tree Guys quick and professional experts are on stand-by ready to assist you, 24 hours a day, 365 days a year! Whether it be storm damage cleanup or a hazardous tree situation. When a bad storm and high winds strike, and damage trees surrounding your home or property, it is best to act quickly. Waiting could potentially cause more damage. Even if there is no apparent damage you can see, there may be hidden damage done that can leave the tree vulnerable to infestation and disease if not caught early. We can help! The safety of your home, your family and our professionals is of the highest importance. We will assess the situation and get the job done.
Full Assessment
Quick & Safe removal of debris, branches, limbs
Disposal of Tree
Speedy Response
Hurricane Damage, Storm Damage, High Winds, Lightning
When to Hire a Professional:
A good rule of thumb when it comes to doing tree care, cutting, pruning etc., on your own is; if you can't keep both feet planted firmly on the ground, you should hire a professional. Once working at height, there are some things to consider, and it is more dangerous.
Safety is a top priority. The Tree Guys know what types of protective gear are needed for different jobs. This includes protective gear wear, eye wear, hard hats, steel capped boots and other protective gear.
We understand trees. What they need to survive and how they grow. We are also able to make a proper assessment on potential risks when tree felling, such as the direction the tree will fall and eliminating potential damage.
We have the equipment necessary to get the job done efficiently. The right equipment definitely makes a difference and allows for minimal damage to surrounding areas.
Knowledge of trees is needed for proper pruning and trimming. There are different methods of pruning that accomplish different results. There are pruning methods to: lift the canopy, maintain structure, improve the health of the tree, remove hazardous branches and increase fruit yield.
Knowing which type of service is needed for a tree on your property can be confusing. Trees provide a vast number of benefits to people and animals. If you're thinking a tree on your property needs to be removed completely, a few questions can be asked. Did it suffer damage beyond repair? Is it infected with insects or disease? Has it become a safety hazard to you, you home, your surrounding areas? If the answer to any of these questions is yes, the tree will likely have to be removed. We are able to assess these types of situations; in some cases, the tree is able to be saved. We can figure out if it can be saved by canopy reduction, canopy thinning, or canopy lifting.
A well-manicured lawn boosts your property value! Your property is one of your most valuable assets.
Landscaping is the first thing that anyone sees when they come to or pass by your home, not to mention potential home buyers. The appearance of your yard or property can reflect positively or negatively on surrounding properties. Manicured landscape can boost the overall value of your home, and The Tree Guys of Brevard can help get you there with any of our many tree services including planting trees, which can be one of the greatest features in a yard.
Your yard can be designed to look like your personal paradise, especially with the varied species of palms and other trees and plants available. Adding a tree to your yard has quite a number of benefits including but certainly not limited to energy savings by cooling homes in the summer with shade, which is great with the high summer temperatures here in Brevard County. Another benefit is that trees help prevent water pollution by reducing the amount of storm water runoff when they absorb excess water. An interesting benefit of having trees around is the have an amazing effect on the human mind, neighborhoods with more trees and foliage are proven to have lower crime rates than their barren counterparts. The Tree Guys can help add to or get your landscape in shape. Call us today!